Mission
Our mission is to identify public schools which have educational needs and to provide the students, teachers, and parents at these schools with materials and programs in order to improve instruction and learning.
The Educational Advisory Foundation's sole purpose is to support high academic achievement and well-trained, qualified teachers in public schools. It is the Foundation's firm belief that quality education should promote and encourage students to develop an excitement for learning and the fundamental skills for life. We also believe that the future of our country depend on the continued success of highly motivated and committed teachers and students in public schools across America.
The Educational Advisory Foundation (EAF) Model
EAF's strategy is threefold:
Tutoring: place free highly-trained professional tutors on every elementary school campus in Atlanta. Individual tutoring gets results more than any other educational intervention. Research repeatedly confirms the magic of one-to-one tutoring, especially when tutoring occurs at the earliest academic stages.
Training: provide high-value training to teachers and administrators that immediately translates into more effective classroom instruction.
Resources: meet individual school needs by supplying books and materials to each campus.

Goals
- Expand the tutoring program at seven schools and expand the program to two more schools
- Add an additional eight teachers for five schools
- Increase the number of students helped to over 350 students
-Service more grade levels at two schools
Programs
Teacher-To-Student Tutoring Program (TST)
The Teacher-To-Student Tutoring Program is a unique one-to-one tutoring program which focuses on improving literacy skills for at-risk first and second grade students in Atlanta Public Schools. Students in this program are tutored for thirty to forty-five minutes bi-weekly on-site by qualified consultants who are retired and substitute teachers.
Orton-Gillingham Program (OGT)
At-risk dyslexic children receive instructional support using the Orton-Gillingham (OG) instructional methods. OG is the industry standard in remediating dyslexia. For more information about OG, visit this link.
Numeracy Skills Tutoring (NST)
Educational Advisory Foundation's Numeracy Skills Tutoring Program (NST) is a unique site-based, one-to-one tutoring program designed to improve math skills for at-risk public school students by providing individualized math instruction using innovative math materials and highly motivational strategies. Today our program goal is to aggressively remedy poor math skills, which is one of the most critical educational challenges facing American public schools. Our program goal is to raise student achievement by providing schools with superior academic materials and programs and by using highly-qualified tutors who apply best practices for one-to-one math instruction.
Teacher Training Outreach Program (TOP)
EAF is providing three kindergarten teachers and four EAF tutors with professional training in Smart Phonics and one teacher in the Orton-Gillingham approach for the treatment of dyslexia. We were able to provide summer training in Smart Phonics for five tutors and six tutors in Focus on Phonics. Because of teacher turnover, we provided new teachers with training before the 2016-2017 school year began.
Teacher Training Program (TTP)
The Teacher Training Program provides practical and professional training for kindergarten, first, and second grade teachers in The Atlanta Public Schools. EAF consultants, who are known as experts in their fields, conduct exciting professional training in all academic areas: Language Arts, Mathematics, Writing, Technology, Classroom Management, Science, and Social Studies.
Camp Jump Start Summer Program
In partnership with The Agape Community Center, St. Anne's Episcopal Church, and the National Charity League, Camp Jump Start counselors operated a summer program for the past 5 years at St. Anne's Church campus. Camp Jump Start is a two-week summer camp which focuses on students' academic success. EAF tutors work with Camp Jump Start children every day to strengthen reading and math skills in order for at-risk student to begin the new school year on grade level.
Proven Results
- Through its on-site tutoring program, EAF has directly helped over 1,100 at-risk kindergarten through 5th grade students
- For the 2015-2016 school year, approximately two hundred and fifty students received tutoring in reading for 30 weeks, starting in September and ending in April. All students, who were struggling readers, made significant gains in reading comprehension and fluency
- At the beginning of our tutoring program in September of 2015, thirty-four percent (34%) of all first grade students tested at three of the elementary schools served scored below thirty percent (30%) on our pre-assessment tests. Only five percent (5%) of these same first grade students scored below thirty percent (30%) on our end-of-the-year assessment
-Ninety-one percent (91%) of the first grade students, tested at the end of tutoring program, scored above eighty percent (80%) on our end-of-the year assessment test. Seventy-four percent (74%) scored ninety percent (90%) or better for the same period

Thank you to our partners

* Funding provided in part by the Fulton County Board of Commissioners under the guidance of the Department of Housing and Community Development CSP Program.

EAF's Luncheon recognizing Dr. Betsy Bockman is featured by Atlanta Public School's Talk Up APS
Please read HERE.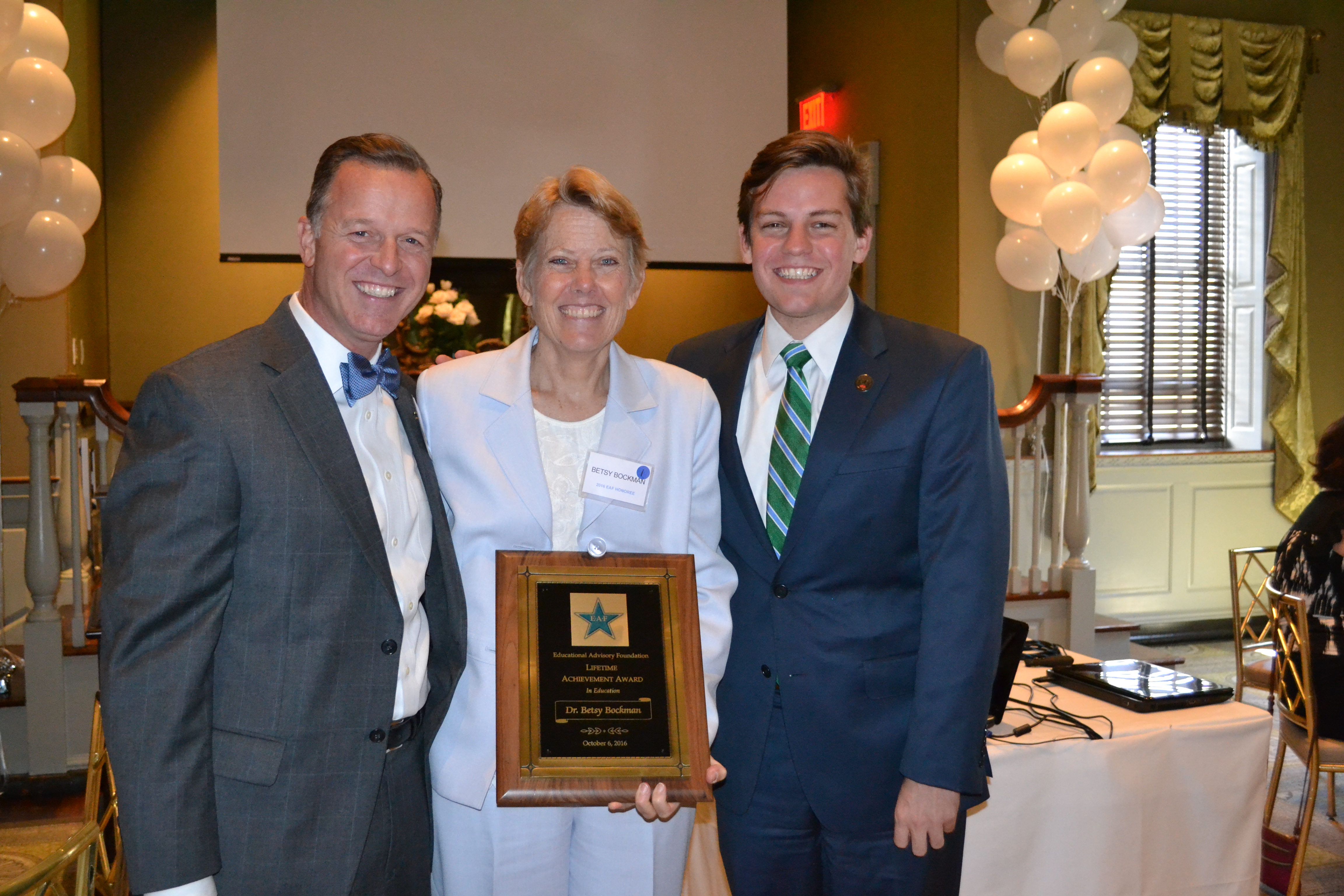 Dr. Betsy Bockman Receives 2016 Lifetime Achievement Award
Please click HERE to find out more about Dr. Bockman, the luncheon held in her honor and our sponsors of the event.
Proceeds from the luncheon were allocated to EAF's Teacher to Student Tutoring Program, EAF's Orton-Gillingham Program, and EAF's Math Tutoring Program.